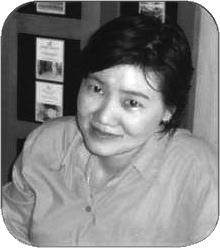 Debbie Ann L. Tan has always experimented with different storytelling voices both in English and in Filipino. She has written different genres starting with essays and short story fiction, but for some years now, she has focused on play writing. She is a Carlos Palanca Memorial Award winner for "Time Waits" and second place for "Teroristang Labandera." She has published under NCCA's Ubod Writers Series in 2005 for "Fate's Line." "Dragon Blood" published in "Stage Presence: The Philippine PEN Anthology of Drama," UST Publishing in 2008. And "Teroristang Labandera" in "Virgin Labfest 2005-2008: Unang Antolohiya" published by Cultural Center of the Philippines in 2009.

Aside from the ones mentioned above, other plays by Debbie shown in the Virgin Labfest were "Dragon's Breath," "Mga Babaeng Too Bright," and the recent "Balunbalunan, Bingi-bingihan."

Debbie graduated Master of Fine Arts in Creative Writing at De La Salle University in 2002. She is a fellow of the 6th Ateneo-NCCA National Writers Workshop. She has written several commissioned plays and is currently teaching at Miriam College. Debbie is a freelance writer, editor, graphic and web designer and amateur 3D animator.