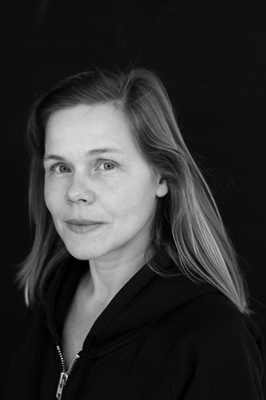 Ingvild Burkey was born in Oslo in 1967. She studied political science at Yale University, U.S.A., and has worked as a human rights monitor in Bosnia and Herzegovina (1997-2000) and a number of African states, including Rwanda, South Africa, Tanzania, Uganda and Zimbabwe.
In the 1990s, she was co-editor of the Norwegian literary journal Vagant. She has published two collections of poetry (Torden i søvne, Aschehoug forlag, 1994, and Den mest tenkelige av alle verdener, Oktober forlag, 2008), a novel (Falsk pike, Tiden forlag,1997; 2nd edition, Oktober forlag, 2008) and a collection of short prose (Intervju med den hjemvendte helten, Oktober forlag, 2002). Her latest book, Den mest tenkelige av alle verdener (The Most Imaginable of All Worlds) was nominated for the Brage Prize 2008, in the poetry category. In 2009 she received the Tanum stipend for women writers.
She lives in Oslo, Norway and Borje, Croatia.