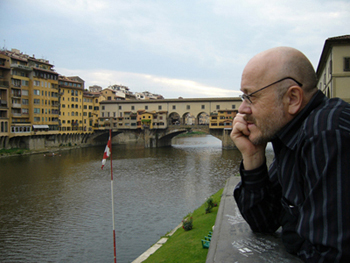 Born 9 May 1946 at Lønset in Sør- Trøndelag, Norway.
Bass player/singer in the rock'n roll groups "Spiritual Man Group" / "Hapax Legomenon" (Oppdal) and "Drugtakers Ltd" / "Pulvinar" "Diaboli" (Sunndalsøra) in the Sixties.
Educated at Veitvet Music Conservatory in Oslo and Trøndelag Music Conservatory in Trondheim with violin as the main instrument and the Grieg Academy in Bergen with Composition as the main discipline.
Composition Studies with Terje Bjorklund, Henning Sommero in Trondheim and Svein Hundsnes in Stavanger.
Studied composition to the Masters degree with Morten Eide Pedersen in Bergen.
Masterclass in composition by Georg Friedrich Haas, Mathias Spahlinger, Kaija Saariaho, Ivar Frounberg and Michael Finissy.
Seminars with Magne Hegdal, Kaija Saariaho, Bent Sørensen, Henrik Ødegaard, Anna Lindahl, Henrik Hellstenius and Karen Tanaka.
Harald Sæther has written music to lyrics by Petter Schramm, Margunn Hageberg, Mona Høvring, Irene Paulsen (all Norwegian), Esther Tellermann (France), in multiple contexts been closely collaborating with the Italian poet Nanni Cagnone with the works "Index Vacuus", "Waves", "Obstupescit Venticinque", "a, in altre parole b" from the poetry collection: "What's Hecuba to Him or He to Hecuba?".
By working he has been music teacher at the Rudolf Steiner School in Trondheim for three years, violinist (soloist and orchestral musician) for 25 years, teacher in the music school for 15 years, principal of municipal music schools and cultural schools in total 5 years and music coordinator at the Opera in Kristiansund for 1 ½ years.
Harald Sæther is a member of the New Music Composer Group since 2007 and chairman since 2009. Member of Norwegian Society of Composers.